Free or discounted children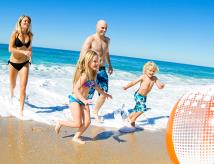 Hotel Concorde

Via Cherso, 6 - 47814 Bellaria (Rn)
Price:
from

:

€

30

per person, 1 night
Terms and conditions:
30.00 per person
Offer for children at the Concorde *** hotel in Bellaria

At the Concorde *** hotel in Bellaria we think first of the children to make the holidays relaxing and carefree for parents.

Our chef is available for any need, we prepare every type of pape according to your requests. Fresh vegetable soup and vegetable broth are available every day.

There are cradles, bed rails, high chairs for baby food, bicycles with child seats and an internal play corner for children .

Children from April to September are always free or discounted.